Photos and text by UNPLAN Staff Peter
On a chilly day in November, me along with three guests from the States took a trip out to Mount Takao located in the western part of Tokyo.
Takao, being just a train ride away from the transportation hub of Shinjuku, is an extremely popular destination for Tokyoites, and sees over 2.5 million visitors every year making it perhaps one of the most hiked mountains in the world.
We left UNPLAN a bit after 9am (enough time to fill up on the free breakfast) and arrived at Takaosanguchi Station just after 11am. After snacking on the dango (rice cakes on skewers) at the station we were soon on our way up the mountain.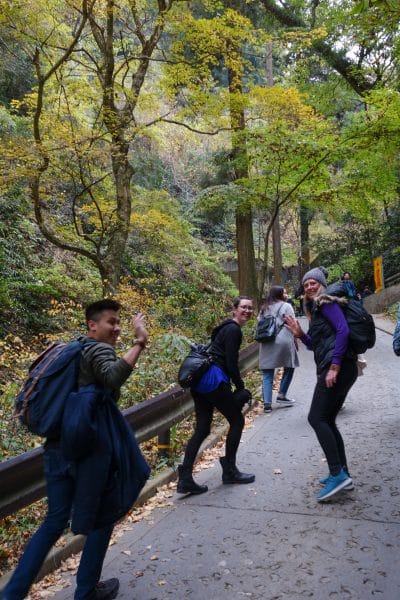 The easiest way to get up is to take the Mount Takao cable car, which will whisk you up more than halfway up the mountain from where it's an easy jaunt up to the summit. For those who are more fit and/or adventurous, Takao offers 6 different trails that range from paved paths lined with shops and attractions, to unpaved hiking trails that will take you a bit closer to nature and also away from the crowds. We decided to pass on the ropeway and hike up Trail #1, which is the most popular way up and offers several things to see, eat, and do.
Despite being a weekday the trail was full of hikers, university students on dates, foreign tourists, and people in general; still the crowds were never too overwhelming or unpleasant. While the initial climb is somewhat steep and we were soon huffing and puffing, we made it up to the top of the ropeway station in good pace.
On the way up you will find lots of food stands and even restaurants where you can sit in that sell snacks such as dango rice cakes, miso soup with mushrooms, konnyaku (a kind of jelly made with a type of yam and seasoned with miso), and more. Most of the dishes do not contain meat and are vegetarian friendly, which is hard to find in other parts of Japan.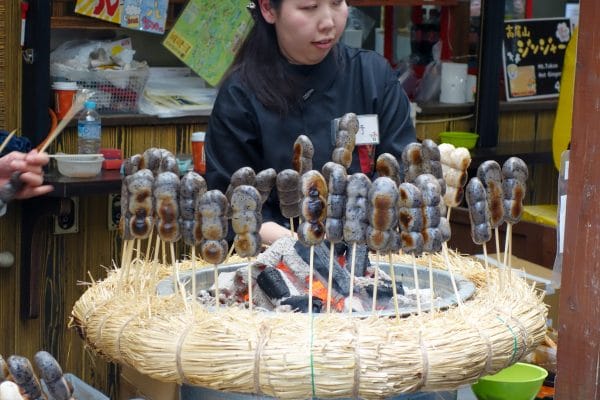 There is plenty to see as well, in particular shrines and temples. One highlight for us was         "Busharito" which can be accessed by following some narrow steps up the side of the main trail just after climbing up a long set of stairs called "Otokozaka" about half-way up the mountain. There were several Buddhist monuments, sculptures, and also some statues of Tengu, which are legendary creatures that are said to reside in the forests of Mount Takao, that make for some great photos.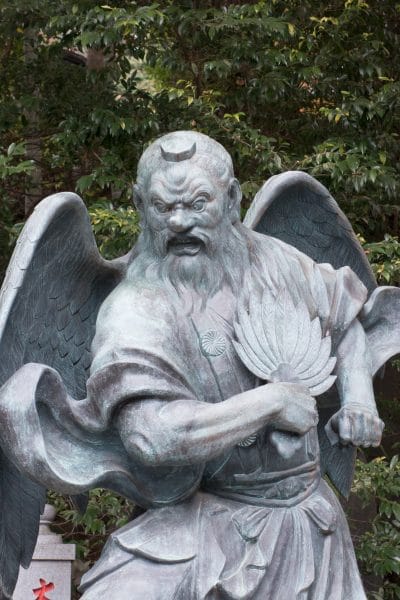 Continuing on you will reach the main gate of Yakuo-in, a large temple/shrine complex located on Mount Takao. The temple itself has some beautiful gates, halls, and pagodas in both Buddhist and Shinto styles and you can also pull "omikuji" (Japanese fortune telling paper) or buy an "omamori" (various charms wishing for things like good health, love, and success in your studies). We tried making a prayer Japanese style at the main hall of the temple which was a cool experience. Even for the Japanese it is more of a cultural tradition than something of religious significance, so I would definitely give it a try (just watch the others to see what you need to do!)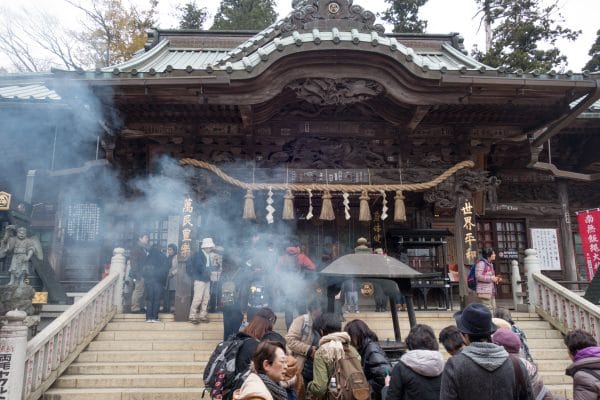 After passing through the temple complex you'll soon reach the summit of Mount Takao. To the east you can get a great view of Tokyo to the east (see if you can spot the Sky Tree) and on the clear day Mt. Fuji peaking through the mountains to the west. There are of course little food vendors/restaurants available at the summit as well, but there are also benches and picnic tables if you want to enjoy some snacks and drinks while taking in the view and fresh air.
On the way down we decided to take Trail #3, which is a proper hiking trail meaning you'll want some good footwear and watch out for the rocks and roots sticking out of the ground. Some of us took a couple tumbles going down and also rain started falling as we neared the end of the trail, so make sure that you are well prepared if you are planning on taking one of the unpaved trails (and just in general, after all it is a mountain.)
Once we were back to civilization, we stopped by a soba restaurant (Japanese buckwheat noodles) to fill up our empty stomachs and warm ourselves up with the hot soup. Takao is famous for a noodle dish called "tororo soba", which is soba noodles served with grated mountain yam. While popular with Japanese people, grate yam has a sticky, elastic texture and some people are slightly allergic (usually just makes your lips itch a bit) so you may want to stick to something like tempura soba if you are not so adventurous with food.
While a mountain in its name, the main appeal of Takao will be its abundance of cultural/traditional attractions and even if you are not much of a hiker it should definitely be on your list of places to visit while in Tokyo. Our staff will of course be happy to give you tips on how to get there and what to do/see/eat so please do not hesitate to ask if you are staying with us and want to make a trip out there!
Mount Takao details
Transportation: The easiest way to get there is to take the Keio Line from Shinjuku Station. There are express trains that will go all the way to Takaosanguchi Station without any transfers (390JPY one way at the time of writing). Those with the JR Pass can take the JR Chuo Line all the way to Takao Station, and then transfer to the Keio Line from there to get to Takaosanguchi.
Hiking difficulty/length: If you take the cable car from the bottom of the mountain (480JPY one way or 930JPY roundtrip) it is an easy hike that will take less than an hour depending on your pave and how much you take in on the way up. If you are walking from the bottom, expect around 90-120 minutes of walking some of which can be somewhat steep but never too strenuous if you are in decent fitness. Trail 1 is entirely paved and is suitable for most beginners, however the other trails are unpaved hiking trails and decent fitness and good walking shoes are recommended.
In the area: There is an onsen hot spring called "Gokurakuyu" right next to the station which is open to visitors. The station building of Takaosanguchi was renovated in 2015 with design by the famous Japanese architect Kengo Kuma. Next to the station also is Takao 599 Museum, a nature/ecology museum with free admission. At the base of the cable care there are many restaurants and souvenir shops.