::日本語は下にあります::
Hello everyone!
Today is the last day of August. Can you believe it? Time flies! We don't want to believe it, at least 🙂
It's always a strange feeling when the next season is on its way.
The catharsis that comes with summer's end, along with the excitement in imagining the winter to come…
Anyways,
It's been quite a while since we last introduced one of our guests in this blog, but we'd finally like to introduce Guest of the Month #2!
This guest is someone who stayed with us back in April.
We'd like to introduce the Brazilian visual artist, Joel Veiga!!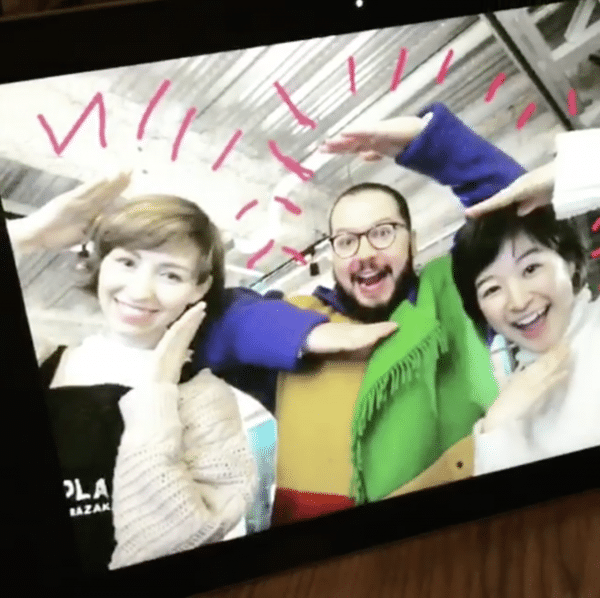 Many different guests come and visit us, and we have many chances to talk with them and become friends.
There are so many guests we met and have naturally become drawn to, whether it be because of their personality, their appearance, or just the aura they have.
Joel is no exception.
To us, he is a fascinating and charming man.
There was one funny incident that brought us close to Joel at the beginning of his stay.
The morning after Joel's first night at UNPLAN, he came to our reception looking a bit shaken up. This is what he told our receptionist, Delice:
"I have a problem. I think my wallet may have been stolen."
It was one of Joel's first days in Japan and it seemed his wallet had disappeared from his bed overnight. He claimed to have searched everywhere, but it was nowhere to be seen.
Joel and our staff spent a good few hours that morning looking for his wallet. We were all trying not to panic and failing hard (lol)
Eventually we decided to file a stolen item report, so Joel went out to take care of it.
After a few hours, he returned to UNPLAN with a bouquet of flowers in hand, and an embarrassed smile on his face.
He had found his wallet inside of his own bag!!
He brought the flowers to us as an apology.
After that, the shaken up image we had of Joel took a 180 degree turn.
Every day during his stay he would come back to UNPLAN with a big grin on his face, and tell our staff about what he did that day, where he went and how this or that was "so beautiful!" or "so amazing!"
He is always cheerful and filled with passion. 🙂
On Joel's last day, he went to the movie theater together with our staff, Meika, Maria and Yoz.
We went to the one in Shinjuku with Godzilla's head sticking out over it. Joel was adorable after he saw the theater and filled up with excitement lol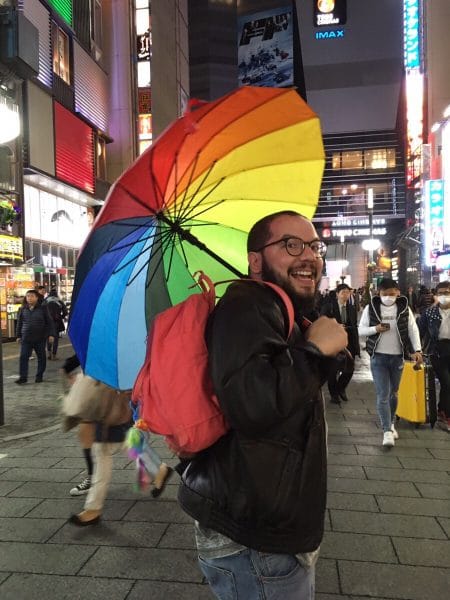 We're excited to continue having more and more great encounters here at UNPLAN.
We hope to see you again soon, Joel!
~ Meika & Delice
こんにちは!
今日で8月が終わるなんて信じられないですね。
いや、信じたくないだけですね。笑
夏が終わっていく時の儚さって不思議。
だんだん寒くなっていくこの時期のワクワク感も不思議。
そんなことを考えながら、、、
前回1度UNPLANのゲストをご紹介してから、だいぶ時間が空いてしまったのですが、今回はその第2段です!
だいぶ前の時期に遡ってしまうのですが、
ご紹介するのは、ブラジルから遊びに来てくれたヴィジュアル・アーティスト
のジョエル・ヴィーガさん!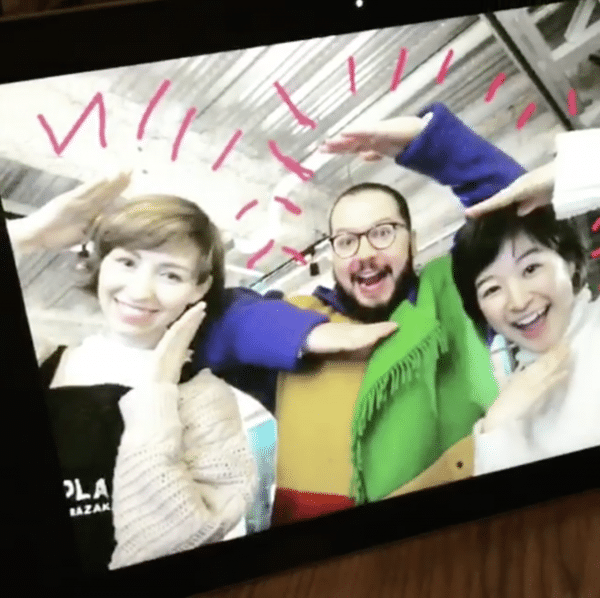 様々なゲストが訪れ、言葉を交わす中で、自然と惹かれ合うときがあるものですね。人間だもの。
その人の雰囲気だったり、空気感、人柄、外見。惹かれる部分は様々ですが、彼は私たちにとって、とても魅力的なゲストでした!
仲良くなったきっかけは、とある事件。
ジョエルさんの財布紛失!?盗難?!事件でした。
UNPLANに到着して、次の日だったかな、彼が財布をなくした!とられた?と大騒ぎになって、スタッフも必死で探して、結局見つかった(ほっ)という事がありました。その時は、その時探したスタッフに花束を買って、帰ってきたのが印象的でした。
そこからぐっと距離が縮まって、毎日どこに行ったよ〜、こんな事があったよ〜、素晴らしい!美しい!といつもそれはそれは嬉しそうに、感動を伝えてくれました。
いつも笑顔で、感情豊かで、かわいいジョエルさん^^
最終日はスタッフたちと一緒に映画館に行きました。
新宿のゴジラの映画館を目の前に、すごく興奮して嬉しそうな彼がとても可愛かったです!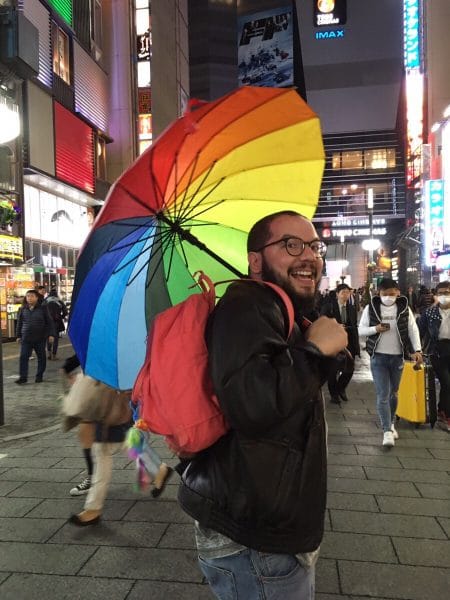 ジョエルさんとの出会いに感謝!keep in touch!ありがとう!!
みなさんも素敵な出会いがあるUNPLANへぜひ遊びに来てくださいね!
次回もお楽しみに♪
~ めいか & デリス
After Joel went back to Brazil, he left us this kind message:
ジョエルさんが帰国してくれてから、こんな、メッセージももらいました!
"I'm just a little person and a citizen of nowhere, also I try to find dreams inside reality and reality inside dreams, but I have not found a place to settle/stay yet. Maybe because in the whole world there is so much to see and live that I feel I can't get attached to somewhere for a long time, so traveling around the world is my biggest goal as much as getting to know people from all the places I may travel to. Japan was a trip decision that I already had since I was really young, like a child, cause now I'm 31 years old, and during my childhood intrigued me the fact that I was in the opposite side, geographically talking, of a country named Japan, where time is exactly the opposite from where I was born and live nowadays. Of course besides that, the beauty of spring time with sakura blossom, the landscapes in the whole country and the crazy colorful urban views of Tokyo made me always want to go to Japan, so I DID IT exactly during the Sakura's Season! And it was, regarding my traveling experience, one of the most amazing ones, if I would say what I most liked I would make an infinite list of items, but I can resume that what makes Japan the best country to me is: Japanese people. Surrounded by an atmosphere of education, politeness and friendly smiles, when you get to Japan you discover in a few minutes you are inside a country where people do the greatest effort to make you feel at home, so did I. Staying at UNPLAN Kagurazaka was one of the best parts of my trip to Japan. I would definitely say that this hostel was "designed" to pleasure, comfort, great interaction with staff and relax with such an outstanding staff! Japan is an amazing country, I will never forget this experience which is so far from mine in Brazil and thanks UNPLAN for receiving me so well, right now I am already planning when I will return."
If you have a chance, check out Joel's website!
ジョエルさんのブログに素敵な写真がたくさん投稿されてますので、よかったらチェックしてみてください!
http://cargocollective.com/joelveiga